IMBB12: Taboo, very late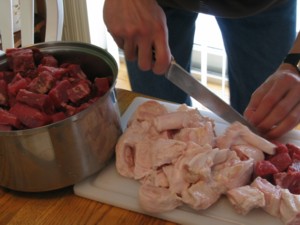 I admit it: I didn't have the energy to think up a taboo food situation, and I bailed outright. I suck. Reading through the entries for the latest IMBB was extremely cool, and I felt guilty. But then tallasiandude reminded me that NoodleFest '05 (about which he STILL has to post, hint, nudge) involved something that most of the attendees found fairly icky, but that we love love love: beef tendon.
Now I always avoided beef tendon in vietnamese soups because it sounded tough, and when tallasiandude named it as a critical ingredient in beef spicy noodle soup, I was wary. And even so, some restaurant versions of beef spicy noodle include tendon that is still quite, um, chewy. And it looks truly scary when raw, as you can see from the picture, especially when you touch it and it feels hard and slippery, almost like bone. And it's about as hard as bone to cut while it's raw. But when you stew tendon for hours and hours and hours, it turns soft and gelatinous, with a rich taste and comforting texture, and it is by far the best part of beef spicy noodle soup as far as I'm concerned. Which is good, because our 20+ noodle-guests ate up all 5 pounds of beef, but left lots and lots of lovely tendon floating around in the broth, and so we had tendon spicy noodle soup for several days afterward. Deelish!
Posted by foodnerd at
01:55 PM
|
Comments (0)