hot chocolate
My roommate gave me a gift certificate to Hot Chocolate for my birthday, which was awesomely nice of her... particularly in view of how excessively yummy the food turned out to be there.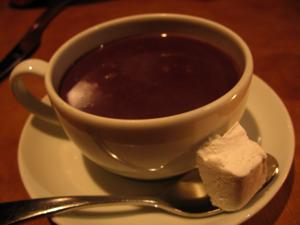 In an effort to try as many of the desserts as possible without totally overloading on sugar all at once, we started with a cup of the dark hot chocolate. Which was thick, silken with melted chocolate, and perfectly balanced between sweet and bitter. And with a homemade marshmallow on the side.
Then we got a salad of green & wax beans, perfectly cooked and dressed in a honey dijon vinaigrette, tossed with some halved heirloom grape tomatoes, and sprinkled with blue cheese. This dish is spectacular, just delicious and nicely composed. Highly recommended!
We also got an herbed flatbread with a dip/spread of deviled egg filling, and a chopped salad "nicoise" of seared tuna, new potato, avocado, egg, olives, asparagus and greens in a green goddess dressing. These were tasty but not so extravagantly good as the bean salad.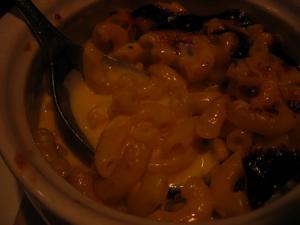 Then we got a crock of macaroni & cheese made with some fancy artisanal gruyere & cheddar, which was just absurdly rich and delicious. In the middle of summer it was wonderful, and I can't wait to have some more in the middle of winter. It went really well with the faintly smoked German Schlenferla helles lager beer we'd acquired in a fit of adding excess to already excessive pleasure.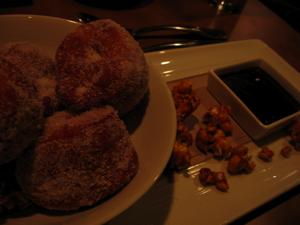 Then it was time for dessert. Tallasiandude had wanted to get three, but we were getting rather full by this time so we restrained ourselves to two. The obvious choices among the many lovelies were the warm brioche donuts, and the dark chocolate souffle cake with salted caramel ice cream and pretzel.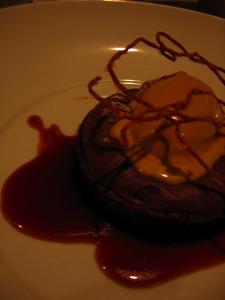 Sadly, the donuts were a disappointment, tasty enough but undercooked in the middle and sort of overwhelmingly doughy. But the unbilled "garnish" -- a copious spill of caramel corn -- more than made up for it, being rich, buttery, crunchy, salty & sweet, and a total knockout when dipped into the hot fudge sauce that came with the donuts.
The warm chocolate souffle cake, on the other hand, is a triumph. The cake is heavy and thick in flavor but light in texture, and sits in a pool of dark caramel sauce that ties the cake together with the salt-caramel ice cream. The pretzel takes the form of a pencil-thin squiggle of handmade, generously salted pretzel laid over the top as a lacy garnish. Really great, just up my street -- chocolate, caramel, salt & sweet, rich and light at the same time.
They have a nice little menu, a great selection of desserts, a great list of unusual beers, and a very comfortable atmosphere done up in shades of brown, just sleek enough to stay on the good side of casual but still be glamorous. We'll go back.
Posted by foodnerd at
07:53 AM
|
Comments (0)