Oliveto
I know that at least one of my faithful readers is waiting with bated breath for the report on our dinner at Oliveto in Oakland, so even though I've been doing these posts in chronological order, I'm bumping this one to the front. It was a spectacular dinner of Californian freshness, prepared Mediterranean style.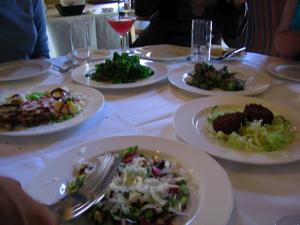 We had a party of 7, of varying degrees of foodieness but uniform willingness to share dishes willy-nilly. Yay! We started with the salumi platter for two, which was delicious, especially the mortadella with pistachios, but several of the salumi were quite similar in style, and the server rattled them off so fast that none of us knew what exactly we were eating. We didn't care overmuch, since they all tasted great, and it was nice to be around the table with old friends.
I must restate yet again how much I adore the custom I picked up from C of ordering one starter to share, then a true starter course. Heh heh heh. Anything that maximizes intake of appetizers is a very good thing indeed, since they are invariably the best showcase of a chef's art.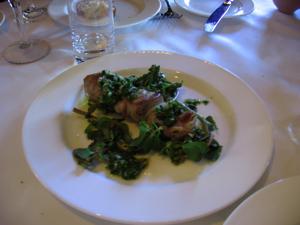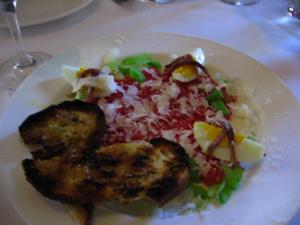 We got charcoal grilled skewers of lamb tongue and sweetbreads, which skeeved out a few of our party, but everyone tried them and liked them, so yay. I already knew I loved lamb tongue, and hedge has a thing for sweetbreads, so we were clear which parts we were snagging from the outset. :-)
We got a salad of raw Niman Ranch beef with soft-boiled egg, anchovy and parmesan, and I am happy to report that they used the awesome white anchovies one often gets in spain, not the harsh crappy ones one often gets in america (*cough*ahwahnee*cough*). This was a lovely fresh sweet dish, satisfying that protein urge while remaining very light and sprightly.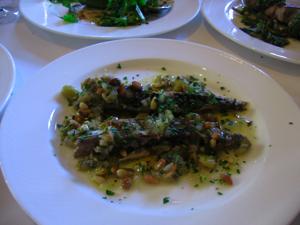 We got fritelle of salt cod, potato and chard that was crispy and delicious over a pile of frisee. We got Boston Mackerel in saor that was a fabulous southern-italian/sephardic dish of sweetness and tartness in perfect complement to the fish. The poor mackerel is so often treated badly in our cuisine, and it is a joy to get a good fresh one in a suitable preparation.
We got a simple salad of avocado and arugula in old balsamic that was frankly one of the best things on the table -- there is no arguing that California produce is some of the best in the world. This salad was $4 more than the salt cod fritters and $2 more than the beef salad, which I guess says something about the quality of ingredients, or at least the cost of sublime produce.
But my most favorite starter was a salad of thin-sliced asparagus, radicchio, celery, and walnuts, with lemon, anchovy & parmesan. Wow. All those flavors play so well together, and I would never have thought to combine them. It would be so easy to do this at home, with good spring produce, and impress the heck out of dinner guests. Yummy.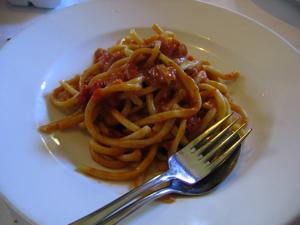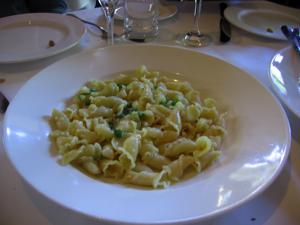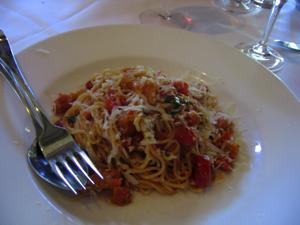 None of the mains sounded particularly compelling to us, so we decided to skip them entirely and focus on the pastas, which pretty much ALL sounded compelling to us. We settled on bucatini all'amatriciana (one of my favorite dishes ever, and it's hard for me to resist ordering it when i see it), potato gnocchi with ragu of lamb hearts, spaghettini with fried bread "crumbs" (really cubes), basil and hot pepper, and trompetti with castelmagno cheese and spring onions.
The trompetti was light and subtle, but could have used more oomph, perhaps in the form of more spring onions -- there weren't many and they were at the peak of season. The other three, though, were awesome. The all'amatriciana sauce was a lighter style than usual, but deliciously porky, and went well with the thick chewy pasta. The ragu on the gnocchi was rich and intensely meaty, again skeeving out a few people at first but winning converts quickly. The spaghettini was so spectacular that tallasiandude ordered a second plateful, which sadly arrived without its crispy bread cubes but still yummy. At first I thought the big soft red things were cherry tomatoes that had been roasted and/or vinegared to make them extra tasty, but it turned out they were the hot peppers. The whole dish was bright and tangy from peppers and basil, softened and blended by the gentling effects of the olive oil in the sauce and bread cubes. Fantastic.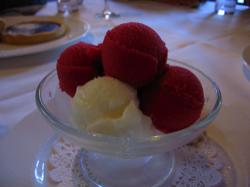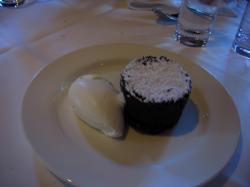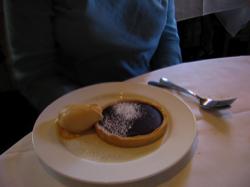 We shared a few desserts: sorbets of strawberry and lemon (i think - i've eaten several sorbet combos lately, and my mind is going), a tasty chocolate tart that was basically fudge in a crust with caramel ice cream, a bittersweet chocolate cake that won raves, and a peach upside down cake that is worth a trip to Oliveto in and of itself. Hedge ordered it, and at the time I was thinking, why on earth would she order THAT? it's going to be lame and boring, as fruity cakes always are in restaurants, blah blah blah. Shows what I know. This thing was incredible. The peaches were fresh and just barely touched with caramel, and the cake itself was light, moist, and very nicely flavored, with crunchy edge bits. I have no idea what kind of cake recipe they are using, but I want it.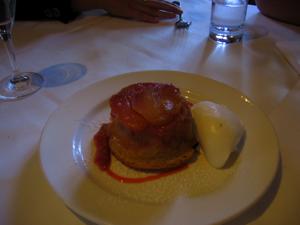 I believe there was some moscato d'asti ordered in there along with desserts, and there was prosecco early on, and another white that hedge ordered and of course I have already forgotten, and some Navarro pinot noir grape juice that someone ordered having seen it as a cocktail component. This is no ordinary grape juice, but a perfumey sweet nectar more that capable of standing on its own to compete with any dessert wine. I had never heard of such a thing, but I will keep my eye peeled for it henceforward (all the californian foodies in the crew knew exactly what it was).
C tells me that staff has changed at Oliveto in the last couple of years, and they have lost the C Pasta Crown to Quince, where the departed staff have gone. Which to me only means that now i have to go eat pasta at Quince, because the pasta at Oliveto remains very very good.
Posted by foodnerd at
07:29 AM
|
Comments (0)