banana rum raisin ice milk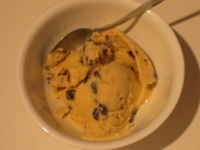 I woke up a couple of days ago dreaming about how to make banana rum raisin ice cream. Like, not just how yummy it would be, but actual steps and ways to make it work. Not at all sure what triggered it, other than the ripening banana on the counter, but I haven't been able to get it out of my head, so I just made it. I didn't feel like buying cream so I went online for an icemilk recipe to check proportions, and adapted it for my purposes. Here's what I did:



2 cups 1% milk
1 tbsp cornstarch
3/8 cup sugar
2 egg yolks
1 ripe banana, smushed
cup of raisins
Gosling's spiced rum to cover raisins
Put raisins & rum in a bowl to soak. I microwaved mine 30 seconds to speed the process.
Put the egg yolks in a small bowl & beat lightly.
Whisk sugar & cornstarch together in a pan, then whisk in milk. Bring to boil over medium heat, stirring frequently, and boil 1 minute, stirring constantly. Slowly, slowly drizzle about a third of the hot milk into the eggs, whisking or stirring. Stir the tempered eggs into the rest of the milk.
Cook over low heat, stirring constantly, about 10 minutes or until slightly thickened enough to coat the back of a spoon. Pull off the heat. I almost always wait just a second too long, and my custard splits -- if this happens, do not panic. Just do what spleen does and whisk the living crap out of it off heat until it smooths out -- it'll be fine in the icecream. Pour the excess rum off the raisins into the custard & stir to blend. Cool then chill about an hour till it's cold. Stir in the smushed banana.
Run custard through ice cream maker, adding raisins toward the end when it's firmed up a little. This will thin it down, because of the extra rum going in, but it'll firm right back up. Put into plastic tub & freeze.
I guess you could consider this a very late, totally non-official participant in IMBB8, since it has booze in it. *grin*
It came out really well -- it could be creamier, of course, but for 1% butterfat, whaddaya want? It's smooth and scoopable, it tastes faintly of banana and stronger of rum, and it has juicy raisins all through it, and because it's not heavy cream I can eat way more of it, which is nice for a change. (foodnerd is attempting the nearly impossible: growing smaller without giving up cheese or bacon or pasta. It's all about kickboxing and DDR, really.) I'll make it again, for sure, and i might put 2 bananas in next time for a stronger flavor... and for company I might use whole milk. It really is quite luxurious and rich even in the 1% version, because of the custard and the rum. Mmmmmmmm.....
Posted by foodnerd at
08:15 PM
|
Comments (0)