green tomatoes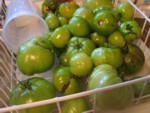 So when it gets damn cold all of a sudden, and your tomatoes not only no longer ripen on the vine but seem to be practically frozen, you gotta figure out what to do with a big-ass pile of green tomatoes.
I set the nicest ones aside to slice & fry in breadcrumbs (yum), and used the gnarliest ones to make green tomato relish. I got the recipe from (again) the old edition of The Joy of Cooking, but I recently noticed it bears a strong resemblance to the chowchow recipe in the fabulous The Gift of Southern Cooking. It's a sweet-sour tangy relish that goes well on ham sandwiches, with roasts, and with cheese & crackers.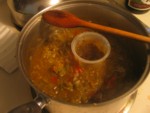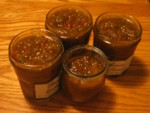 I had a big colander very full of tomatoes, and they made two batches once sliced. For each batch, I used:
potfull of thinly sliced green tomatoes
1/2 lb brown sugar
1/2 quart cider vinegar
1 onion
1/2 red pepper
1/2 green pepper
roughly 5 cloves garlic
1 tsp whole cloves
1 stick cinnamon
2 tsp ground ginger
2 tsp celery seed
3 tsp ground dry mustard
kosher salt
Take the thinly sliced tomatoes and sprinkle with a bunch of kosher salt and let sit in the fridge overnight. My first batch I skipped this step, being lazy, and it came out much too watery and I had to boil it to death to reduce it. It tastes better if you salt them first, so suck it up and do it. Drain them and rinse and drain again.
Put tomatoes in a pot with onion & peppers, both finely diced, and garlic, minced. Add the vinegar, sugar, cinnamon stick & mustard, and stir till all combined. Put the cloves, ginger, & celery seed into a cheesecloth bag (or a tea ball, if you have no cloth -- i haven't been able to find cheesecloth in ANY market lately) and add to pot. Bring to a boil, then simmer on low heat until tomatoes are soft & translucent and liquid is reduced - probably 2-3 hours. Stir occasionally, especially as it gets closer to done, as it will be more likely to stick & burn. Your house will smell like vinegar pretty strongly, so be warned. Remove spices, duh.
You can bottle it that way, or you can have at it with the stick blender to even out the texture a little as I did. I like it still a bit chunky, but not with big honking pieces of tomato. Then give a bunch away, because it makes a hell of a lot.
Posted by foodnerd at
07:39 PM
|
Comments (0)