coconut bread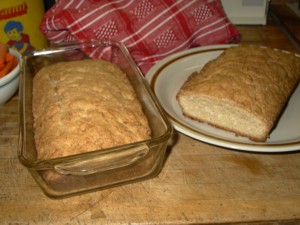 Mom & Dad went to a Cuban-themed pig roast in Seattle this past summer, and there they had something called "coconut bread" that was kind of halfway between a dessert bread and an accompaniment to a savory meal. They haven't (or rather, Mom hasn't) shut up about it since then. Mom found a likely-looking recipe on line, and we made it last night to go with some pork steaks and turnip greens and carrots. (Pork steaks, btw, are slices from the roast cuts of pork, and seem to be much more flavorful than the wan fat-free chops we get in supermarkets. Keep your eye out for them. [Update: I saw some today in Whole Foods labeled "pork cutlets". They're the oblong, floppy-looking ones with a more darkish color than the chops.])
Mom's right -- it's awesome. This is a very easy recipe, and has a nice moist crumb and lovely coconut flavor (and a very crunchy crust, at least in the crappy convection oven I baked in). It would be a nice change from the usual sweet tea breads on a dessert plate, and it goes well with Caribbean and Southern dinners of salty spicy savory dishes.
Coconut Bread (Haitian)
(from The Complete Caribbean Cookbook by Pamela Lalbachan, via some website my mother found)
makes 2 loaves
4 cups flour
3.5 tsp baking powder
1/2 tsp cinnamon
1/2 tsp nutmeg
pinch salt
2 c grated coconut (sweetened or unsweetened ok)
2 c sugar (use less if using sweetened coconut or it will verge on over-sweet as mine did)
2 large eggs, beaten
1/2 c evaporated milk or buttermilk
1/2 c butter, melted (calls for unsalted, I used salted with no ill effect)
1 tbsp water
Sift flour, baking powder, cinnamon, nutmeg & salt in large bowl. Stir in sugar & coconut. Beat in eggs, milk & butter. Add water, stir well. (NB: midway through adding the wet ingredients, beating with a spoon became pointless -- i kneaded & squeezed it with my hands like a pastry crust or dough until everything was well combined. You end up with a very cohesive lump of dough, like a bread dough.) Divide into two equal balls, and press gently into 2 greased loaf pans. Bake 1 hour at 325F. Toothpick in middle should come out clean.

Posted by foodnerd at
02:08 PM
|
Comments (1)