frontera grill
After the architecture river tour, which was awesome but did involve being outdoors and seated for 90 minutes in 50 degree drizzly weather, we went to Frontera Grill for brunch. (So that in theory we could go to Resi's Bierstube for dinner, b/c it doesn't open until like 3pm. We didn't go, but that's neither here nor there.)
They told us there'd be an hour's wait, but we couldn't have been there more than 20 minutes -- we checked out the cookbooks and the amusingly-attired fellow patrons and weren't even close to bored yet -- when we were ushered to a corner banquette, perfect for sharing an excessive amount of food. The cocktails all sounded so appealing that we threw our better judgement to the winds and ordered a pair of the bloody marias and a limontini. Both of these were some of the best cocktails we've ever had -- the bloodies were spicy and complex and had a knockout dose of lime juice, and the 'tini was made of homemade lime-infused tequila, orange juice, mint, and a splash of damiana, which gave it a floral/bitter note that was perfect against the sweetness of the orange and mint.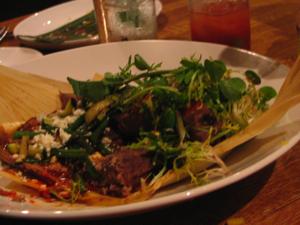 We started with a halibut ceviche tostadita, a jicama/citrus salad, and sopes rancheros, tiny little masa cups filled with the most delectable braised beef in chile sauce and a sprinkle of dry white cheese. These little morsels were the best thing we had on a tableful of delicious dishes -- get them if they are available when you go.
Then we had posole, a richer, more refined version of the stuff I love so much from Perez, with limes, shredded curly cabbage and tostadas on the side. We had Tamales de Frijol con Queso de Cabra: black bean tamales filled with homemade goat cheese in "guisado" of wild and woodland mushrooms, organic roasted tomatoes, green chile and mint, with watercress and green bean salad on the side. We had Papadzules Yucatecos: classic Yucatecan "enchiladas" of homemade tortillas bathed with savory, smooth pumpkinseed sauce, rolled around hardboiled egg, topped with habanero-sparked roasted tomato and pickled red onion, with Frontera salad (lettuce, raw beets and dry white cheese) on the side. Now this dish was unexpectedly quite bland, with nary a habanero to be detected, but with a dose of the hotsauce from the bottle on the table, that particular problem was fixed right up. And we had pickled veggies & jalapenos, and fried plantains with crema and more of the dry salty white cheese. *drool*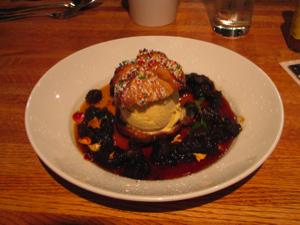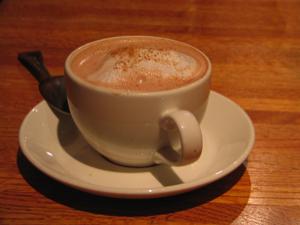 And just as we were patting our bellies in stuffed contentment, our (hot, friendly) waiter brought us a dessert menu. Now I ask you: would you be able to resist something described as brioche-style bread with pumpkin icecream and syrup-steeped pumpkin and dried figs and cherries soaked in tequila? I didn't think so. And then there was the matter of the hot chocolate with mezcal & cinnamon, which was so utterly perfect I would go to Frontera Grill just to have it for dessert. The mezcal gives it a smoky sharpness that works wonderfully with the cinnamon creaminess of the cocoa. And at this point, our waiter had been chatting us up (which is usually annoying, but this guy was just friendly enough, and then he'd go away and leave us be), bringing us a little info-sheet on the mezcal, describing where it's grown and how it's made, and generally being adorable -- and then he gilded the lily by pouring us a cup of cafe de olla, which we didn't ask for and he didn't charge us for, despite the refill, which we had to have, because this stuff was so fantastic.
The link I've posted is to a different style of the drink, similar to the one our waiter described as what's made in Jalisco, where he's from, but Frontera's version is Oaxacan. For a pot of coffee (a mild but nutty coffee would be good), add two cloves, a cinnamon stick, some orange zest, and some piloncillo to taste, piloncillo being Mexican dark brown sugar that comes in little coneshaped chunks. You don't want it very sweet, just enough to bring out the spices and citrus flavors. Holy crap, this stuff is incredible -- it's like Christmas and summertime all rolled up into one thing and poured into a cup. Again, worth a trip to the Frontera bar just for this.
Now, I have a strange aversion to Mexican art, and Frontera's decor pretty much hits all the notes I find annoying, from the font of their logo to the primitive art on the walls, but I would happily sit in that room for hours eating and drinking the fabulous things that come out of Mr. Bayless's kitchen. I love that he is so overwhelmingly nerdy about regional Mexican recipes, and so passionate about using local and organic ingredients, and the result is a warm, comforting cuisine that is stimulating and complex without being remotely formal. I worried a bit that the emperor might have no clothes, because destination restaurants sometimes have that problem, but in this case, the emperor was amply clad indeed.

Posted by foodnerd at
01:35 PM
|
Comments (0)