green zebra
So C emailed last night that he had bonded with his server at Spring last week, and her sweetie pie -- a server at Green Zebra -- was hooking him up with a reservation at Green Zebra tonight. And obviously I didn't need to be asked twice.
I'd heard mixed reviews from several quarters, but I liked the concept of the restaurant and wanted to see for myself what was up with a not-quite-vegetarian restaurant that celebrated the vegetable. Unfortunately, I am an oaf and forgot my camera, which is a damn shame considering how pretty all the plates were; sadly, we'll have to make do with camera photos.
The interior is all angles and hipness, but the palm fronds and faux-woven table surfaces are really cool, and the table arrangements afford more privacy than you'd expect from a restaurant so small. We ordered 3 dishes from each of the three stages of the tasting menu, and had just the right amount of food. The trout sounded good, but we were pulled by the wegemetarian dishes and stayed pure veg all the way.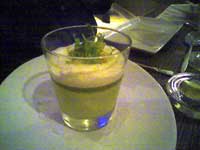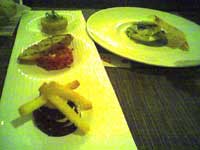 There was an avocado panna cotta, savory this time, with creme fraiche and pickled sweet peppers and celery leaves. This dish was plain weird, but in a really good way. It was cool and soft and unctuous and rich, best when punctuated by the sweetness of the cream and the sharp brightness of the pickles and celery. It would be awesome as a summertime dish.
A trio of beets came with a deep garnet beet with gorgonzola-horseradish sauce, a fine dice of pink beets (my fave) with dill and white balsamic, and a near-puree of golden beets with orange walnut dressing. The subtle distinctions between the three types of beet was interesting, and was thrown into relief by having all three on the same plate. I *heart* beets with dill.
The marinated mozzarella was a spectacular specimen of imported italian cheese which would have been gorgeous just on its own, but it came with a garnish of olive-bean-spice puree, and a pool of pureed arugula, and a moroccan-spiced parmesan cracker. Yummy.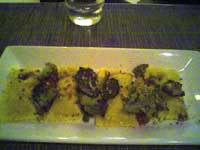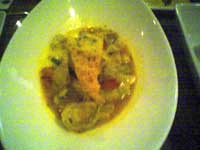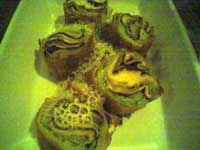 The middle courses were a roasted shiitake roll wrapped in a wonton wrapper and fried, served over sauteed savoy cabbage (the one discordant note in the meal -- i thought the frying was a bit off, though the shrooms and cabbage were very tasty); a quartet of agnolotti filled with puree of cauliflower & mascarpone, and topped with roasted cauliflower and black truffle (whooo-ee, yum!); and a light, lemony "cassoulet" of artichoke, tomato and lemon-balm hollandaise (my fave of the three, closely followed by the agnolotti).
The bread and butter are fabulous at Green Zebra, by the way, especially the multi-grain bread, which has a nutty sweetness that's just right. Normally i prefer salted butter, but whatever this sweet-cream stuff was could turn my head for sure, and they serve it nice and soft, the benchmark of a restaurant that's serious about their eating.
We'd been drinking a sancerre recommended by Jeremy, our fabulous waiter, which turned out to be a real treat, minerally yet with a little bit of fruit in it. I will keep my eyes peeled for sancerre henceforward. As we segued into the third round of dishes, we moved on to a Domaine du Grapillon d'Or 2001 Gigondes (that envelope is sure coming in handy). Very nice indeed.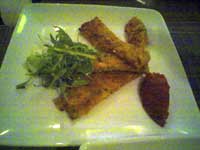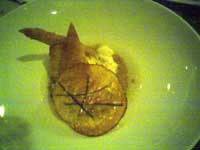 The last series was an eggplant tart with a smoked tomato sauce and a zucchini-cheese pate (good); a spicy-hot lentil cake with a sticky red-pepper jam and a meyer-lemon relish (awesome, both the cake and the condiments); and the best dish of the evening, a duck egg served over applewood-smoked potato puree with brioche points. Holy crap, this dish is good -- somehow they got those potatoes to taste like bacon, and they melded beautifully with the thick gooeyness of the duck egg's yolk, and all of it was perfect with brioche toast. I wish they were open for brunch so I could stumble over there and have duck egg and smoked potato for breakfast on the weekend.
We had room for a cheese course, since the all-veg menu was quite light, and we had a nice silky brie-style cheese, a funky hard sheep cheese, and an amazing find: Friesago from Shepherds Way. Nutty, milky, sheepy, perfectly balanced. Walnut toasts and date paste and fresh figs and micro-sliced apple went nicely with all the cheeses, and paved the way for dessert.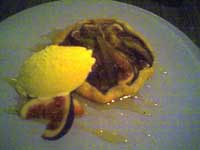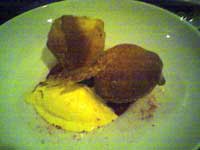 A fresh-fig galette with ginger ice cream and black pepper ice cream was very good, but it was the pumpkin beignets with warm cranberry compote & pecan ice cream that stole the show. Yum. We were unable to resist the idea of chocolate curry ice cream, though C was skeptical -- it turned out to be fantastic, tingly and spicy notes playing around with the rich chocolate. (On a related note, C was telling me about his dinner at Tru last night, which involved -- wait for it -- foie gras in chocolate sauce with a glass of big rich madeira. *mwrowr*) And there was a lovely dessert wine, a spicy Monbazillac, similar to Sauternes but with a more complex kick of spice at the end.
This dinner was not as mindbending as the one at Blackbird, but I wasn't expecting it to be; dinners like that don't come along every day. But this dinner WAS interesting, well-executed and delicious, and was enjoyed with what has turned out to be a wonderful new friend. Yay!
Posted by foodnerd at
12:26 AM
|
Comments (1)