blackbird, out of focus but delicious as always
My friend the ELF was in town for a big, important, stressful work event, and we made plans to go out for dinner the night she wrapped it all up. She brought along her friend and colleague Tha Directah from Jersey, and we all had a hell of a time, drinking just a little too much and eating a lot too much. I love Blackbird. :-)
I haven't decided if Tha Directah needs to become an acronym or not (TDFJ?). However, she can eat with me anytime, because anyone who can do this in a public place is A-OK with me: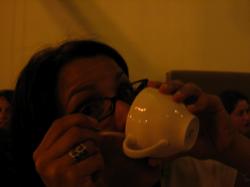 The girls were running a little late because of work, so I was lurking at the bar waiting for them, drinking a perfect vodka gimlet that fabulous bartender Paul made for me just the way I like it, with half Rose's and half fresh-squeezed lime juice. ELF joined me, and Tha Directah sweet-talked Paul into making his signature drink, which he refused to name but was his own variant on the French 75. Big points to the ELF for recognizing the resemblance on sight!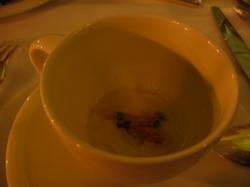 The amuse-bouche was a cup of sunchoke bisque with home-cured salmon belly. Not just salmon. Salmon belly. And it was a perfect little explosion of salty fattiness against the creamy nutty soup. It occurred to me that I like the bellies of lots of creatures: salmons, tunas, pigs, clams...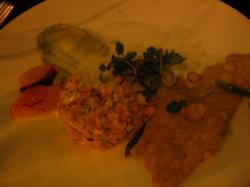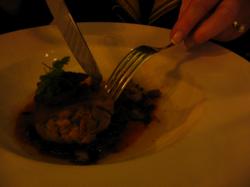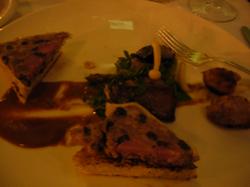 Then, inspired by tales of C the WineNerd, we ordered two rounds of appetizers. We were at least one sheet to the wind by this time, so it was all a little haphazard inasmuch as we could only agree on the contents of the course at hand at any given moment -- but that made it more fun. So we got a salmon tartare with blood oranges and avocado and arbol chilies, which was very nice and perfect for summer -- I liked it as a nice break from the meat-stravaganza that my dinners at Blackbird inevitably become, but the girls have had a few too many salmon tartare dishes in NYC, where they seem to be on every menu for all those skinny New York girls to order. And we got the succulent, i mean suckling, pig confit with blood oranges & balsamic, which was to die for as it always is, and the charcuterie plate, which is different every time and dreamy in all its guises. The crispy lamb's tongues were my favorite this time, which took some doing because the country pate was pretty spectactular on its little brioche triangles, and the pickles this time were adorable little enoki mushrooms.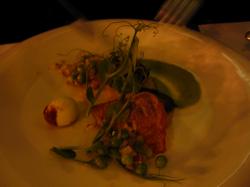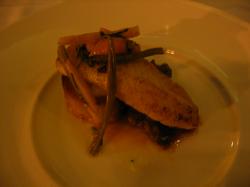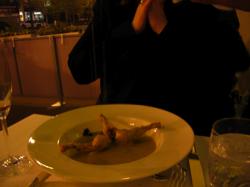 For the second appetizer course we got the diver scallops, with peas and preserved lemon, which was as close to failure as I've seen Blackbird get, which is to say that it was utterly delicious but the flavors seemed to exist on their own rather than blending together harmoniously into something even greater than the sum of the parts. And we got a walleye pike with pickled vegetables that may have been ramps, I don't remember exactly, which was another light, fresh dish that wasn't particularly challenging but for that I am grateful, because I don't always want to work when I'm eating. And we got the green garlic soup topped with battered and fried frogs' legs, which was ELF's favorite. The soup was simple and fresh, and the little leggies were awfully nice, little salty crunchy mild meaty bites to contrast with the soft green soup. I don't think I'd ever had a frog's leg before, and it does taste a little bit like chicken, but somehow softer and more delicate.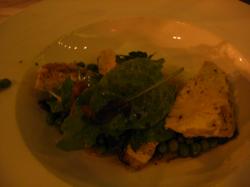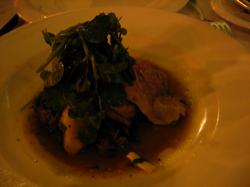 A rose champagne materialized in there somewhere, courtesy of the ELF, which got the other two sheets flapping in the breeze. We didn't have enough gas for three entrees, and sadly the pork rib had run out, so we shared the sturgeon with peas, onions and sorrel, which was very good but sturgeon just always tends to taste like dirt to me, and veal flank steak with morels and ramps and a sweet-tart vinegar sauce, which was more the sort of springtime dish I prefer. Yum.
Tha Directah hit the wall somewhere between the second and third course, once the adrenaline of the week's work started to wane and the cocktails started to wax, so we skipped dessert entirely and took ourselves home to bed. There wasn't any Allman Brothers this time, but I think they still had a good time. They're coming back this week, and if schedules allow, we'll do some more high-quality eating real soon.
Posted by foodnerd at
01:00 PM
|
Comments (0)